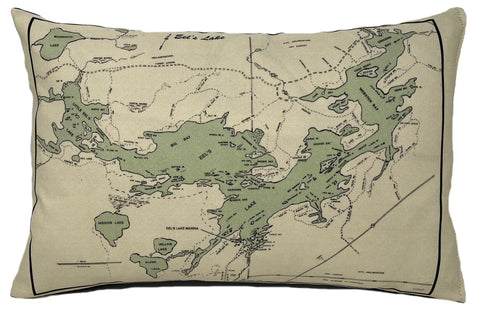 A genuine vintage-style linen pillow case with 100% down-filled insert. The pillow case features a 1986 map of Eels Lake. These pillows look and feel old fashioned and are the perfect gift for lake visitors, family and cottagers.
 ***This pillow is being sold in support of the Eels Lake Cottagers Association, with whom it has been developed. Please see below for more details.***
Eels Lake is a glimmering gem in the Haliburton Highlands. It has been a summer escape for cottaging families dating back to the late 1940's. The lake got its name, not from some water creature but from an Indigenous Chief named Eels Cow. Eels Lake is a cold water lake with depths up to 120 feet but averaging 22 feet. The lake has many bays, islands and inlets in its almost 40 miles of shoreline, surrounding the 2,300 acres of inviting water. It supports fish habitats of lake trout, bass and pan fish. 
Printed and hand made in Toronto. 
Details: This is a 100% linen-cotton canvas pillow, down filled with a 12x18 inch insert (made in Canada). Finished pillow measures approximately 11 by 17 inches.
The backing fabric is a black linen-cotton blend.

***Fundraiser details: Vintage Map Co. has agreed to make Eels Lake Vintage Map throw pillows in support of the Eels Lake Cottagers Association and will contribute $5 for each pillow sold to the Association. 
About the Association: The Eels Lake Cottagers Association maintains our special lake environment in many ways. To name a few: communication with MNR (Ministry of Natural Resources, TSW (Trent Severn Waterway), FOCA (Federation of Ontario Cottagers Association), Buoy/Marker Program, Water Quality Monitoring, Annual Regatta, Horseshoe Tournament, Lake Clean Up and General Meeting.

Shipping 
Shipping Rates
Canada - FREE SHIPPING! (Expedited Canada Post package delivery with delivery in 2-5 business days)
US - FREE SHIPPING! (Parcel package delivery with delivery in 8-12 business days)
International - FREE SHIPPING! (Standard parcel package with delivery in 10-20 business days)

---
More from this collection