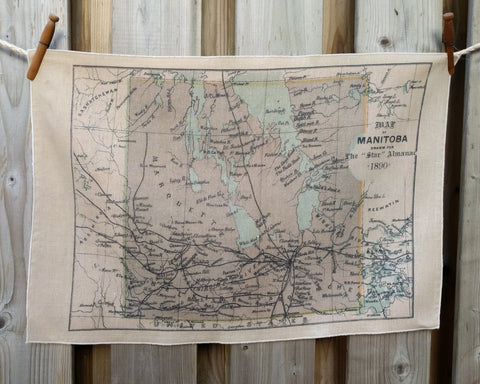 This tea towel features a pre-Confederation, 1890 map of Manitoba. At this time, Manitoba was known as the "postage stamp province" as it was simply a square, about one-eighteenth of its current size. It wasn't until 1912 that it would expand northward to Hudson's Bay, mirroring the northern reach of its neighbouring Western provinces. Winnipeg and Brandon are clearly shown as rail hubs and the beautiful antique hues will have you dreaming of old...
Makes a great gift!
Details: This is a 100% linen tea towel, approx. 16 x 25 inches.
Shipping Rates
Canada - FREE SHIPPING!
(Canada Post standard lettermail with delivery in 2-7 business days)
US - FREE SHIPPING!
(Canada Post standard air lettermail with delivery in 8-12 business days)
International - FREE SHIPPING!
(Canada Post standard lettermail with delivery in 10-20 business days)
---
More from this collection