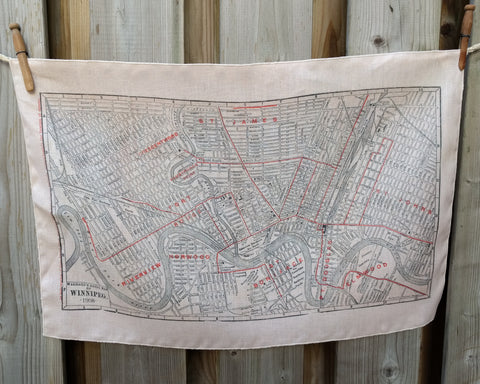 This tea towel features a 1908 map of Winnipeg, taken from a folding pocket map of the city. To fit on the folding map, the North/South/East/West convention was turned literally on its head, as the map's aspect ratio shows East/West on the horizontal. Those who know the "Gateway to the West"-city well won't be fooled for long. Most of the street names can easily be read, showing the downtown and neighbouring areas in amazing detail. The antique colour and details make this a map pillow destined to become an heirloom!
Makes a great gift!
Details: This is a 100% linen tea towel, approx. 16 x 25 inches.
Shipping Rates
Canada - FREE SHIPPING!
(Canada Post standard lettermail with delivery in 2-7 business days)
US - FREE SHIPPING!
(Canada Post standard air lettermail with delivery in 8-12 business days)
International - FREE SHIPPING!
(Canada Post standard lettermail with delivery in 10-20 business days)
---
More from this collection