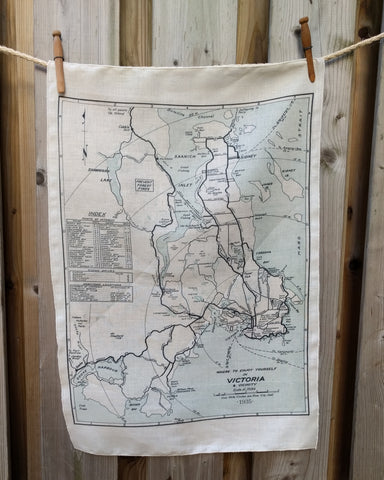 This tea towel features a 1935 tourist map of Victoria with the charming invitation of "Where to Enjoy Yourself in Victoria and Vicinity". It shows the area in 5 miles circles fanning out from City Hall all the way up to Sidney and Saanich Inlet, and west to Sooke Harbour, and lists points of interest and scenic drives.
Makes a great gift!
Details: This is a 100% linen tea towel, 16 x 25 inches.
Shipping Rates
Canada - FREE SHIPPING!
(Canada Post parcel package delivery with delivery in 2-5 business days)
US - FREE SHIPPING!
(Parcel package delivery with delivery in 8-12 business days)
International - FREE SHIPPING! (Standard parcel package with delivery in 10-20 business days)
---
More from this collection